27.10.2020. Imperial College London, European Neurosciences Center / Centro Europeo de Neurociencias (CEN) and the University of Toronto have created an intercontinental partnership to study the clinical applications of fully integrated wearable exoskeletons. The therapists at CEN were trained remotely to use the HERO Glove, an open-source robotic glove that assists five finger extension and grip strength (1,2). The therapists effectively integrated the HERO Glove into therapy from day 1, enabling people with severe hand impairment to complete therapeutic tasks that would be otherwise impossible (video link). The therapists plan to use the HERO Glove with their patients for a full week, enabling the researchers to study, for the first time, how extended use of an untethered whole hand soft exoskeleton influences device usability, neuromuscular recovery and performance on activities of daily living.
Clinicians need portable compact robotic interfaces to carry out sensorimotor assessment and assisted training in the clinic and at the patient's home. Researchers at Imperial College London are therefore developing a portable backdrivable robotic interface for the wrist that estimates spasticity and can be used to develop data-driven neuromechanics models (3). The partners are hopeful that the testing pathways paved with the HERO Glove and this affordable robotic interface will help more technologies and techniques to be translated from the laboratory to the clinic and home. This could enable patients and therapists to have a larger influence early on in the design process and enhance education and access regarding innovative rehabilitation exercises and technologies that have increased benefit to people with neuromuscular injuries.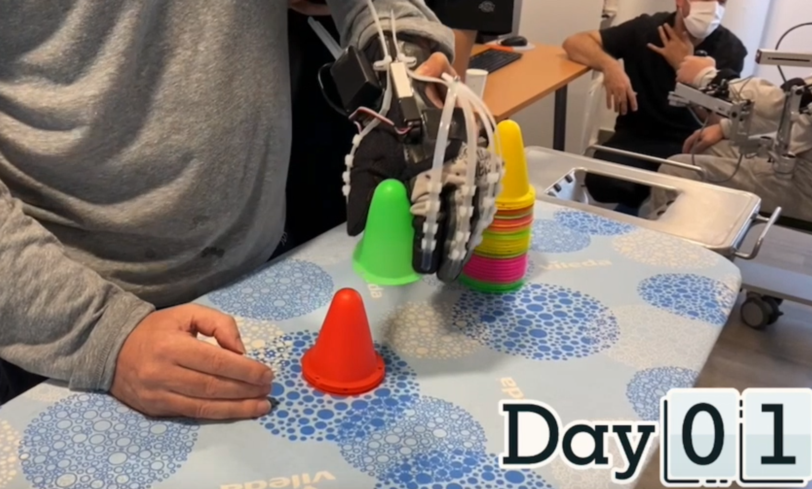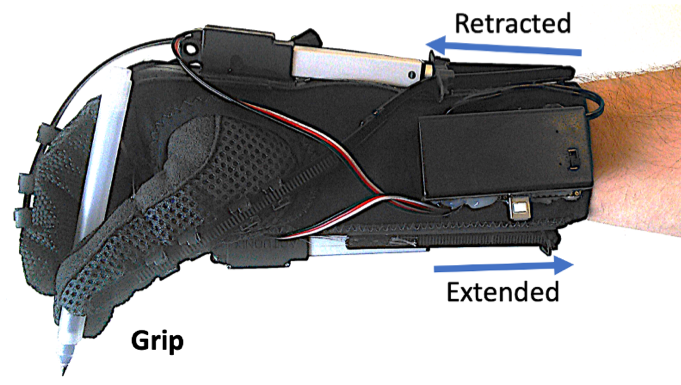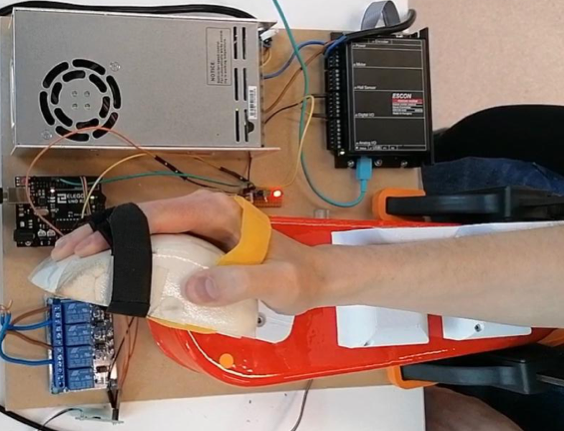 1. Aaron Yurkewich, Illya Kozak, Andrei Ivanovic, Daniel Rossos, Rosalie Wang, Debbie Hebert, Alex Mihailidis. "Myoelectric Untethered Robotic Glove Enhances Hand Function and Performance on Daily Living Tasks after Stroke." Journal of Rehabilitation and Assistive Technologies Engineering (RATE). 2020.
2. Aaron Yurkewich, Illya Kozak, Debbie Hebert, Rosalie Wang, Alex Mihailidis. "Hand Extension Robot Orthosis (HERO) Grip Glove: Enabling Independence amongst Stroke Survivors with Severe Hand Impairment," Journal of NeuroEngineering and Rehabilitation (JNER). 2020.
3. Melendez-Calderon, Alejandro, L. Bagutti, B. Pedrono, and Etienne Burdet. "Hi5: A versatile dual-wrist device to study human-human interaction and bimanual control." In 2011 IEEE/RSJ International Conference on Intelligent Robots and Systems, pp. 2578-2583. IEEE, 2011.