11.08.2021. With years of experience in scientifically exploring and evaluating device-based therapies, the role of Schoen Clinic Bad Aibling – Harthausen in the ReHyb project is to accompany and evaluate the technical integration of the ReHyb system from a user perspective. Such a user-centered approach is repeatedly said to be important for successful rehabilitation and targets to include the opinions and needs of patients.
To apply this approach during the development of the modular ReHyb system, in which several components like robotics, functional electrical stimulation (FES), and serious gaming are synchronized and integrated, clinical trials in a participatory design are conducted at Schoen Clinic Bad Aibling – Harthausen.
The aim of these clinical trials is to ensure the feasibility and usability of the future ReHyb system and to deliver important measures to the technical partners for the ongoing development. Furthermore, recruiting patients who represent the full spectrum of potential impairments after stroke, ranging from mildly to severely affected, will allow to define future use cases of the single components of the ReHyb system. These results will provide guidance in the prescription of the system or its single components.
The first trial has already started: currently, patients after stroke at Schoen Clinic Bad Aibling – Harthausen are evaluating the combination of two ReHyb modules: FES and serious gaming. One game of the Rehabilitation Gaming System (RGS) was selected for this study, which trains hand opening and closing. Using EMG-triggered FES, the wrist and finger extension of the impaired upper limb is supported by electrical stimulation. The primary outcomes of this trial are feasibility and usability of the combination of two ReHyb modules.
The information deduced from this study will ensure that the device is in the interest of the users and will enable the developmental period to improve usability. This in turn improves the safety of the device and, together with the increase of the acceptability of the device, facilitates the implementation into daily life.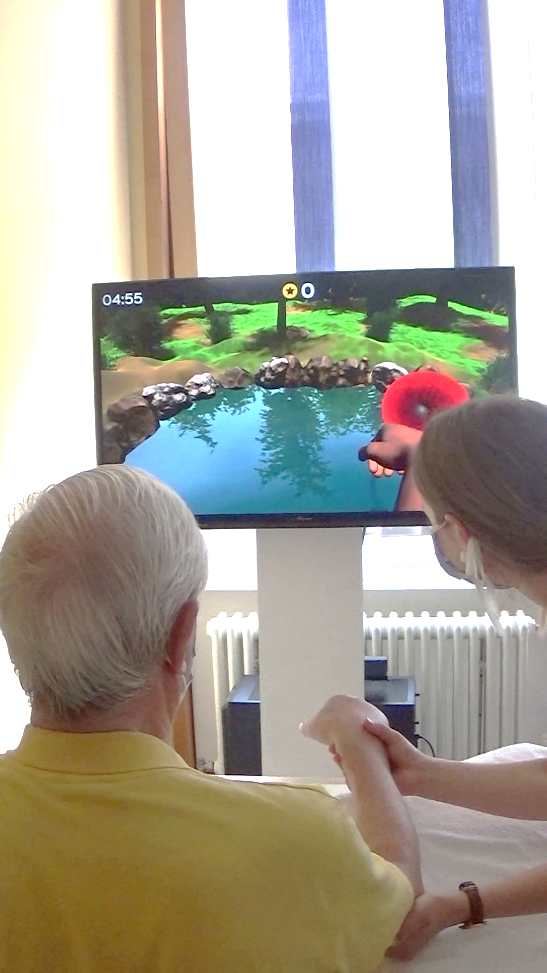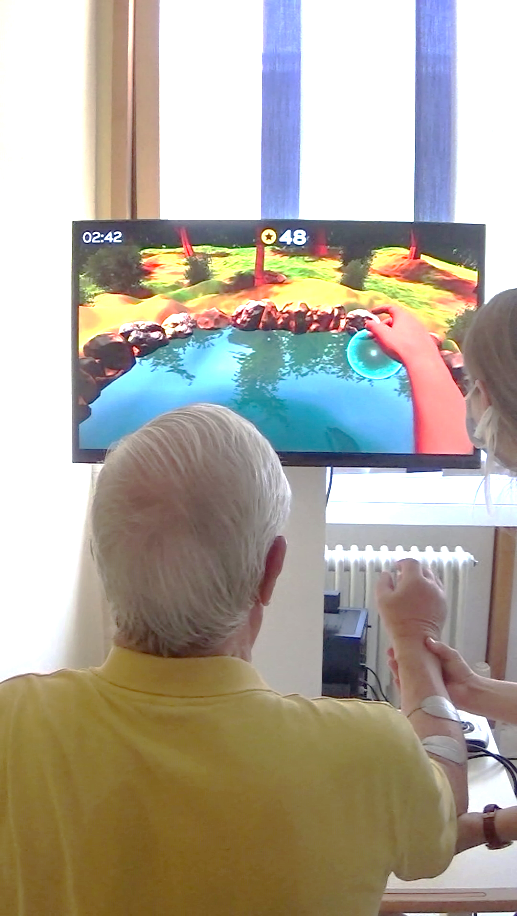 Figure 1: A patient with a right-sided hemiparesis training with the Rehabilitation Gaming System with (right) and without (left) FES support
Greetings from our patients – they are very excited to test further developments of the ReHyb system!
Further studies are about to start soon.