10.07.2023. As part of the REHYB project, TECNALIA has developed a new EMG signal acquisition device that improves the performance of the previous device integrated into the beta prototypes developed in the REHYB project.
A new system has been designed specifically for physiological signal recording called REHYB ACQ3.0. This new module enhances the recording capabilities of the previous version by including four recording modules for a total of 32 channels configurable as monopolar or bipolar, in a reduced form factor to improve the portability of the system. The REHYB ACQ3.0 device has dimensions of 45 x 65 x 36 mm and a weight of 90 grams., which represents a reduction of 60 % in volume and 25 % in weight compared to the previous version.
The 4 acquisition modules can be used synchronously as a single system or as 4 independent modules of 8 channels each, each with its own reference and ground connections. As a microprocessor, a dual-core ARM has been included which allows to increase not only the number of channels that can be measured but also the sampling rate up to 16000 samples per second for each channel.
As an added functionality, all this information can be filtered and processed internally or extracted in raw signal format via high-speed USB or WiFi communication to an external processing or storage system. Once the electronics of the new REHYB ACQ3.0 device have been tested, the signal acquisition FW and the WIFI communication FW are currently being developed and improved.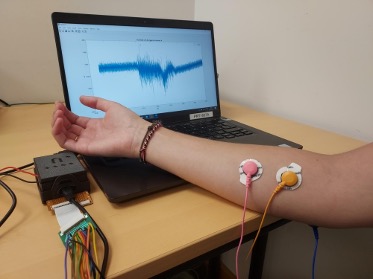 In the coming months, the development of the WIFI communication functions will continue and the new acquisition device will be tested in laboratory tests.